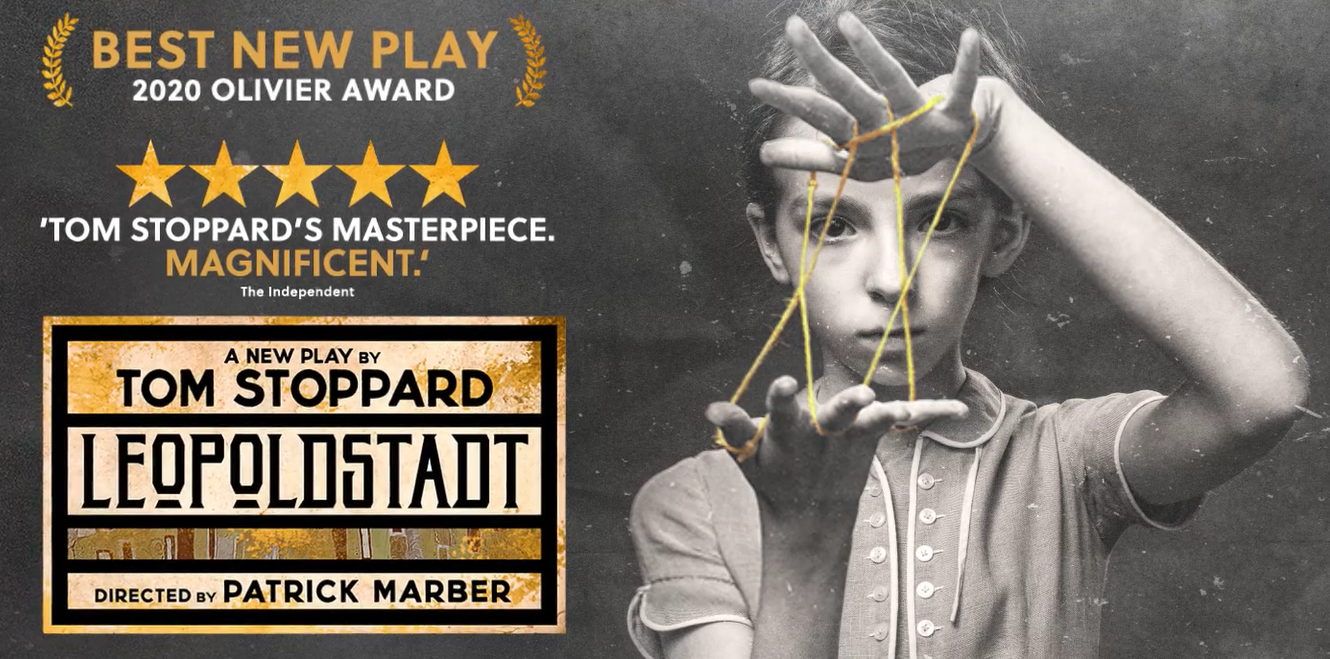 British playwright Tom Stoppard, 85 years old and still working, has long been a hero to me. I would go so far as to declare him our finest living playwright. Leopoldstadt, his latest play, opened in London's West End in 2020 only to be shuttered by Covid. I read the script as soon as it was published and thought it was brilliant. Twenty-six actors perform 37 roles, a cast size more typical of a movie than a play. Last year the remounted play had a successful London run. When I heard that the acclaimed London production would be crossing the Atlantic this fall for a Broadway engagement, I checked my calendar, counted up my pennies, and planned a trip to New York. Last weekend I caught two performances. 
If after purchasing a theatre ticket you were to get an email from the producer providing an essay by the author and a family tree showing how characters are related, you would not be faulted for thinking this play is going to present challenges. And in the case of Leopoldstadt, for which I did receive such an essay and chart, you would not be wrong. Which is not to suggest the effort isn't worth it.  
It was silence that stirred Stoppard to write this play. His mother's willful silence about their family history, combined with Stoppard's own incuriosity – the word he uses – about their ancestral shadows. His incuriosity began to thaw in his fifties. The characters crowding Leopoldstadt's stage are a loose fictional version of Stoppard's extended family. Seen in this light, the genealogical and emotional excavating he did for this play represents a labor of atonement to them.
Stoppard knew that his immediate family had emigrated to England from Czechoslovakia when he was nine. His father was a casualty of World War Two. Stoppard had a vague awareness that back in the old country some ancestors may have been Jewish. But ethnic and religious history was territory his mother refused to visit. I can appreciate, admire even, how Stoppard respected his mother's veil over the past. What I do find perplexing however is his own decades-long incuriosity. Avenues of research other than asking his mother were available to him. In interviews Stoppard admits his own puzzlement about this. 
Incuriosity is a curious lacuna in a writer. The genres of plays, movies, novels, short stories, biography, and history demand curiosity from their authors. Why do characters say and do the things they do? It is an odd thing, then, that this necessary capacity, even if operating at only a subconscious level, went missing in Stoppard when it came to his own family.  
Stoppard did eventually learn why his mother (née Marta Becková, dying at age 85 in 1996) had kept such a tight lid on the past. The reason turned out to be the fiercest one a mother can have: safeguarding her children's survival. You see, most of Marta's relatives died in the Holocaust, murdered for no reason other than being Jews. "Here in England no one needs know our history," she thought. "My children can be safe."
Back to the play I just saw in New York. With so many characters scattered over four generations and appearing at various times in their lives, Stoppard challenges himself and his audiences. One task he has is to impart a lot of exposition early in the play, which risks boring his audience. Who the heck are all these people? (There's a reason the producer emailed me a family tree ahead of time.) Another challenge is that watching 37 characters makes it hard to know which one or two deserve our closest attention over the course of the story. In writer-speak, who is the protagonist? 
Leopoldstadt is a moving and important story. A roll-call of characters' fates at the finale, while an innocent boy plays off to the side, is devastating. The play's director, Patrick Marber, has aptly summed things up: "It's fundamentally about memory, and time and love. But it's also about fascism and immigrants and refugees. It's about everything – it's Stoppard." I'm glad I was able to steal a few days to visit New York. If you get a chance to see Leopoldstadt, do go. Twenty-six actors is a cast few regional theatres can afford so this play is unlikely to receive many productions despite its excellence.
Don't miss a thing. Receive Duane's infrequent blog posts by signing up on the Home or Contact pages of this website.