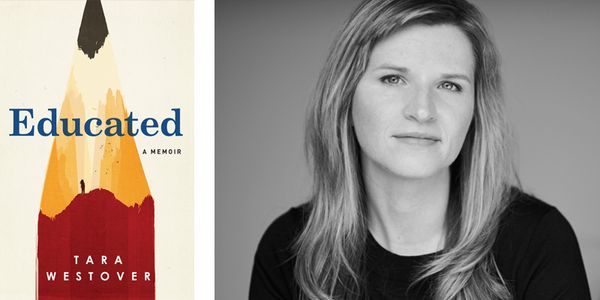 Having grown up in a large Mormon family, I can bear testimony (as a good Mormon might put it on a Sunday) that advising a teenager not to attend Brigham Young University because the socialist professors there will corrupt you, would be exceedingly rare. Yet that incident ranks low on the strangeness scale for one survivalist family in southern rural Idaho. That family was escorted onto the world's literary stage last year by Educated, a memoir written by Tara Westover, youngest of the family's seven children. I attended an interview with Westover last spring at Elliott Bay Books in Seattle but didn't get around to reading her powerful and moving book until the end of the year. As 2018 progressed, the book's reputation kept growing until by yearend Barack and Michelle Obama, Bill Gates, and the New York Times had all given it must-read status. (Publicity like that can make a writer believe in Heaven.) Here is a three-minute video of Gates interviewing Westover.
A situation that always amazes me and, I suspect, discombobulates social scientists, is how an urban child raised amid poverty, abuse and addiction, shines in school, earns advanced degrees, and makes important contributions to society. Westover's memoir portrays an equivalent achievement but for the rural West. How did she do that? If she could do it, why can't more? How does nature so soundly trump nurture?
Prior to leaving home in adolescence and setting foot in school for the first time, Westover had learned to read and write by reading only the Bible, the Book of Mormon, and speeches by early Church leaders. Getting into Brigham Young University required some creative paperwork, not to mention defying her father. I should point out that any reader seeking a take-down of the LDS (Latter-Day Saints aka Mormon) religion will have to look elsewhere. During her Seattle interview Westover explained there is much about the Church that she respects. She is especially grateful for her professors at BYU who, recognizing her determination to learn, were patient with her as she caught up. (Until she got to BYU she had never heard the world "Holocaust.") The Church also helped her stay in school when she was flat broke. A few years later, with encouragement and help from BYU professors, she attended England's Cambridge University where she earned a Ph.D. in History.
In reading her book it is evident that her family's Mormon faith is almost incidental to their plight; her household could have subscribed to any number of more fundamentalist religions. The doctrine that framed her family's beliefs and practices was not religion so much as an end-days survivalism, undergirded by a paranoia that doctors don't heal us, God does; and public school teachers are socialists. Load up on ammunition, stockpile water and food, and get off the grid because socialism – capital S – is going to destroy our country. Armageddon, here we come.
Before Westover could obtain an education, she first had to survive working for her father. His farm was really a junkyard packed with peril. He earned a living by scrapping metal. The first half of the book can call to mind Dante's Inferno: impalings, fractured bones, muscles cut, bodies engulfed in flame, melted skin, crushed skulls, falling off roofs. An abusive brother was dangerous, if you consider shoving your sister's head in a toilet dangerous; I do. Schizophrenia and manic-depression are also implicated. Westover lays bare the immense need a child has for parental love and approval and, in a sick family, the torture a child will undergo in quest of that approbation. A child feels shame and unworthiness when a parent fails to protect them.
Westover can write. Her narrative carries along at a brisk clip and many sentences are beautiful. She mentions one of her first teachers after she left home being appalled at her poor grammar but who also glimpsed something. She told Westover, "You have a knack for writing." A prescient teacher there. Westover never forgot her words.
I am in awe of the emotional bravery writing this memoir required. When you close the book you will be affirmed by what we can accomplish against impossible odds, and the good we are capable of achieving to balance all the bad we manage to do.
Don't miss a thing. Receive Duane's infrequent blog posts by signing up on the Home or Contact pages of this website.