(from an essay by Duane Kelly first published October, 2017; photo of George Souvall by Bella Souvall)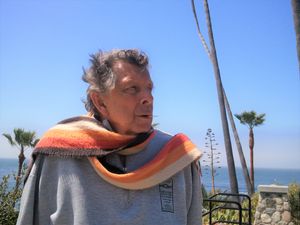 Youth who find themselves in challenging circumstances can sometimes catch a break. The fates drop into their path a gift in the guise of a good and caring adult. The opposite can just as easily happen, kicking one's life from bad to worse. I was one of the lucky ones. 
My gift went by the name of George Souvall. 
In 1965 came my summer horribilis. I was 15, my father died in the U.S. Navy at Camp Lejeune, North Carolina, my beloved grandmother Bessie had a fatal stroke while I was staying with her, and my mother hauled me and my six younger siblings across the country in a green Chevy station wagon to start a new life in Salt Lake City, a land alien to me but where she had family. That fall I started classes at South High School where I knew no one. At five feet, two inches and 85 pounds, I must have been the smallest boy there. I was still waiting for my adolescent growth spurt. I had no friends and the other kids, with the compassion teenagers are famous for, made fun of this new shrimp from the East Coast. 
I was lost, confused and depressed. I could only claim so much of Mom's sympathy because she had six other unmoored kids to tend to. In my fog of adolescent narcissism I couldn't see that Mom was in a world of hurt herself. At age 39 she was restarting life as a widow solely responsible for a rowdy tribe of seven kids. 
Perhaps the gods saw my misery and took pity. Or maybe Grandma was keeping a promise she made me in a vivid dream soon after she died: "I will look after you." But the odds are I just got lucky. As I said, my gift was George Souvall. A special guy I want to tell you about. 
That first semester at South High School I took Physical Education and our teacher was high-energy Mr. Souvall, also the school's basketball coach. I don't remember details now and neither does George, but he took notice of this sad kid who was struggling. He pulled me aside to explain that teams had these positions called managers and he needed one for the upcoming basketball season. Managers help prepare practices, keep the gear in condition, and assist the coaches and players however needed (I became an excellent ankle taper). It wasn't as if I had anything to lose here so I signed on. 
George was famous in Salt Lake City athletics for the passion with which he coached. He also probably set a record for technical fouls, usually earned by charging onto the court and screaming at the guys in striped shirts. What George was not so good at was keeping things organized. That's where I came in. Coach would give me notes for practice plans and I would type them up, post them in the locker room and the gym, and archive them in notebooks. I didn't know I was good at organizing things but George somehow did. His strengths were passion, energy, a talent to motivate, and court savvy. That's what won championships, not tidy notebooks. 
So George and I developed a kind of partnership. He was the coach and I was his manager. My outsider status gradually evaporated. I started to feel competent and valued. I made a few friends. Something else was happening also, which I wasn't sophisticated enough to recognize. George was becoming a father of sorts to this pint-size kid. His paternal eye extended to my grades – he knew what I was capable of better than I did. He wouldn't hesitate to loudly chew my butt out. George could do loud. 
My Mom loved sports, came to many games, and had one of the biggest voices in the bleachers. She and George always agreed on the refs' pathetic eyesight. Mom got to know George and his beautiful wife Mary and sometimes helped look after the three young Souvall children. George admired my mother's strength of character and decades later honored her by being a pallbearer at her funeral. 
Last week I was in Utah and in an afternoon visiting with "Coach," capped off with dinner at – where else?  – a Greek deli, he shared more about his roots. His Greek parents emigrated in the early 1920s. Nicholas Souvaliotis (later shortened to Souvall) came from the city of Patras and George's mother Helen Theros was from Argos. The 1920s being hard times in Greece, they sailed to America seeking economic opportunity. Nicholas and Helen didn't know each other when they emigrated. Each arrived at Ellis Island with other family members. Both families' plans were to get to California; that's where the best opportunities were supposed to be. They got as far as Utah, where they found a substantial Greek community already established. 
Nicholas first found employment on the railroad, working mostly with Chinese immigrants, and in the mines surrounding the Salt Lake valley. English was not required for these jobs. Later he and his brothers operated speakeasys (Prohibition was in force) in Park City, catering to the miners, and in Salt Lake City. Their Salt Lake joint, the "NCA Bar," was located on West Temple between Third and Fourth South. Customers came from a large produce market nearby. His parents were introduced by relatives in Salt Lake City who told them to marry. This was "proxenio," the Greek version of arranged marriage. The relatives must have had some wisdom because the marriage lasted 57 years and produced four children, George plus three sisters. Nicholas died at age 100 in 1984. Helen followed him six months later. 
George had come along in 1931. Only Greek was spoken at home. When he reached school age he didn't know English and had to repeat second grade. To this day he keenly recalls the shame he felt. Once he gained fluency in English George did well in school and excelled in sports. In baseball he played a mean second base and he was a quick guard on the basketball court. He went on to play varsity basketball at the University of Utah and Utah State University, where he matriculated in 1956. 
For employment in Utah, when Mormons are doing the hiring, Mormon applicants hold an advantage. This is good for building bonds among the faithful, but it discriminates against gentiles. The system began with the first pioneers and continues to this day, though considerably weakened. This may help explain why the first generation of Souvalls ran speakeasys; other career paths weren't so accessible. George blazed new ground in 1962 when he became the first non-Mormon ever hired as a head coach for a Salt Lake City high school. He remained head coach at South High until 1975 and continued teaching there until retiring in 1987 when the school was closed and the building converted to a community college. 
George's memories last week helped me understand how he zeroed in on my struggles as an outsider in a new school in a new town. George knew how it felt to be an outsider. 
George revered his father and likes to repeat maxims Nicholas often told him (sometimes laying on the thick Greek accent for effect). Last week George shared a few: 
● When God gives you birth, the greatest miracle of all, He wants you to remember what a privilege it is to be alive and to find a profession where you can give back to society – to serve. 
● Two things you cannot buy – a good name and health. Take care of both and never bring disgrace into the home. 
● Show me your friends and I'll show you who you are. 
● If you're going to be a bum, be the leader of the bums. 
Now 86 years old, George looks hale and hearty and still bubbles with energy. While he appears likely to match his father for longevity, I didn't want to delay writing this thank-you note. Life is uncertain and brief for all of us. What if George Souvall hadn't appeared in my path? Let's don't go there. Allow me to celebrate the man for who he is and all that he has meant to me.
Don't miss a thing. Receive Duane's infrequent blog posts by signing up on the Home or Contact pages of this website.