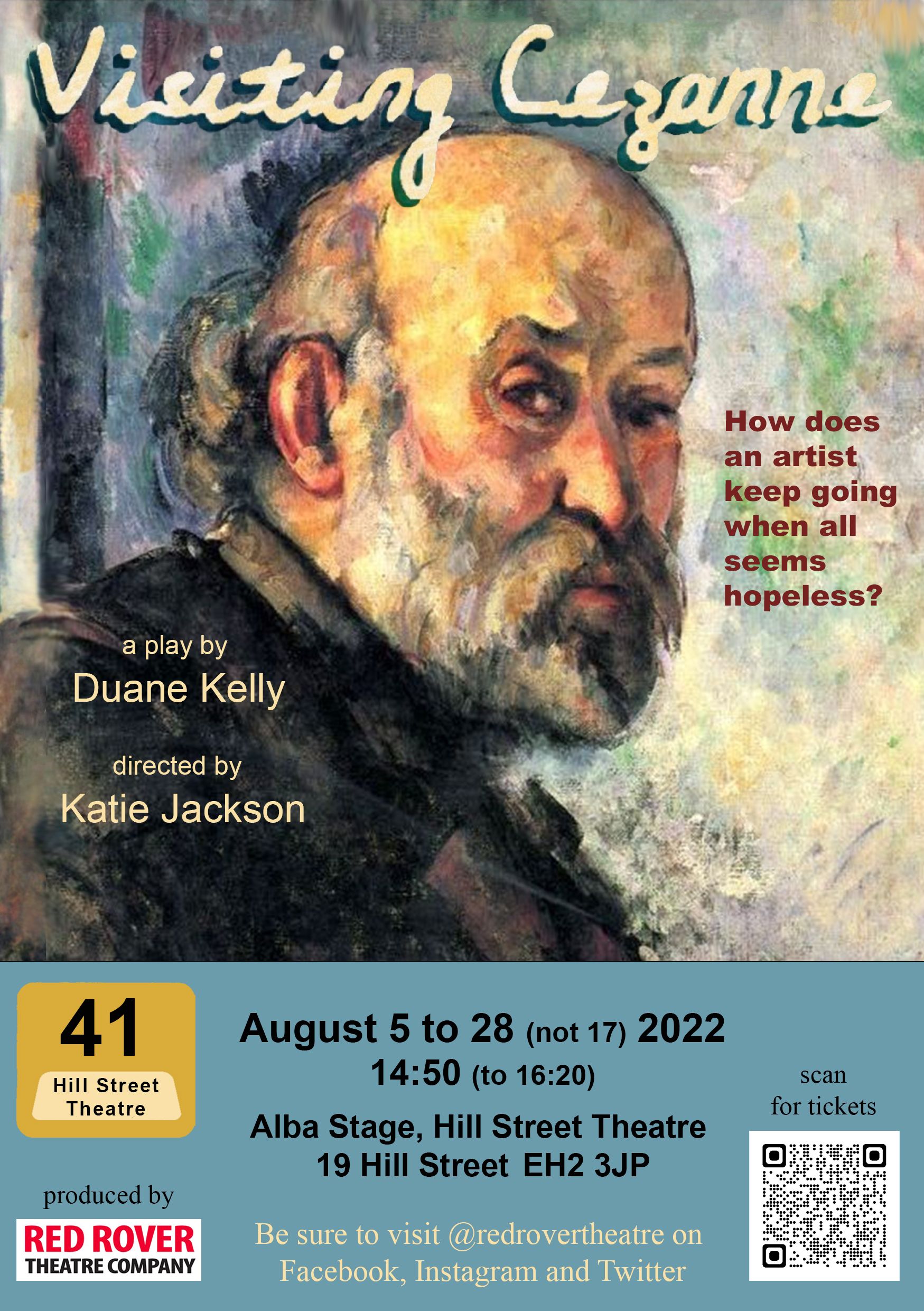 I find myself at a high-water mark in my theatre life. My play Visiting Cezanne is now on as part of the Edinburgh Fringe Festival, the world's largest theatre festival. I have taken up residence in this lovely city for the entire month of August. 
After being pretty much dormant for the past three years due to the Covid pandemic, the Festival has risen to its feet again. This production of Cezanne, in the works for two and a half Covid-delayed years, is a collaboration with a sterling group of theatre artists in Glasgow.  
We close on August 28, after 22 performances. Audience response has been emotional and enthusiastic. Below are some of their reviews.
AUDIENCE REVIEWS
"Thank you so much for providing an amazing experience in which I could spend sacred time with my Grandfather, and of course, the incredible Paul Cezanne. . . Appreciation and Admiration for all involved. Superb !!!  
     Banish despair.  
     Keep working.  
     All is not hopeless.  
                    -    Alison xxx 
"Miracles do happen. Thank You. Thank You. Thank You."  
"When the end came round suddenly I was genuinely surprised that ninety minutes had flown by. One of the Fringe shows that will still be in my head when the month comes to a close."  
                    -    Blyth Crawford  
"Excellently crafted with gentle humour underpinning the message of the human spirit overcoming adversity. Very well written and beautifully presented by four actors who draw you into and through the narrative, so much so that you wonder where the time went. Thoroughly recommended. Five stars."  
                    -    John McCann  
"An amazing production with a strong message of perseverance and resilience, as an artist but also as a human in general! The ensemble cast was perfect. Highly recommended."  
                    -    Anouk  
"Exceeded my expectations and piqued my interest. I particularly liked the theme of not giving up on creating art. The female characters were strong, and I loved the idea of passing advice back to yourself in a previous part of life. Well done team for creating a great ensemble piece."  
                    -    Kathryn  
"Really enjoyed this play, especially after seeing Cezanne paintings just the other day at the National Gallery. The actors really brought the characters to life and immersed us in their world. The play contains a great message to artists, and humans in general. A must see at this year's Fringe."  
                    -    Chase  
"A clever exploration of what the future might have been had things turned out differently for Cezanne. I was immediately transported into the artist's studio, meeting one of his models and two women who inadvertently changed his future reputation. This play clipped along keeping me immersed from start to finish. Funny in spots, thoughtful in others, sprinkled with moments of deep sadness. Great cast brought their characters to life especially Paul Cezanne."  
                    -    Colleen Brazil  
"The ensemble cast was wonderful and the message about perseverance and resilience is a good reminder to all of us, not just artists doubting their talent! Highly recommend it."  
                    -    Dennis  
"What a great 4-piece ensemble cast. Excellent performances and an enjoyable, relatable plot!!  
'Banish despair, keep working.' Artists seldom change no matter what era!! All very relatable to this artist! ☆☆☆☆☆ Thoroughly enjoyed this!!!Please go see!!☆☆☆☆☆  
                    -     Moe Rocksmoore  
"Thoroughly enjoyed it! The seamless weaving of time periods from Cezanne's studio to a current day New York art museum blended perfectly with the theme of 'timeless' art. All four actors performed splendidly and with both humor and pathos, helped describe the turmoil and neglect often felt with artists trying to create and at the same time survive. Beautifully moving and evocative!"  
                    -    John, Eve and Owen Lewars  
"What a wonderful production. It really moved me, asking the important question about the value and power of art in the face of all seeming helpless. It is a life-affirming play for all but especially those who create, in any way. A universal story, portrayed beautifully by the company. A must-see."  
                    -    Amy    
"I thoroughly enjoyed this 90-minute must see - a fresh take on the inspiration behind the art of renowned Post-Impressionist artist Paul Cézanne. Delving into the feelings every artist struggles with when creating art that is not appreciated in its time. Endearing characters bring comfort and inspiration to one another. Sprinkle a little bit of time travel on top and this is an adventure to remember!"  
                    -    Kiara