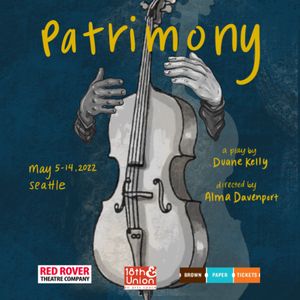 The world premiere of my play Patrimony opens in Seattle May 5, 2022 for eight performances. If you're in the neighborhood we'd love to see you at the theater.  

Patrimony, a new play whose secrets never seem to end, tells the story of a troubled teenager with no father who struggles to find one. Terrified, his mother doesn't know where to turn. The boy tries to enlist the help of his imaginary friend from childhood. But even if this creature can be located, what aid could he possibly offer? 

We have a magnificent creative team, led by director Alma Davenport. Our actors have been in rehearsals for the past month and now cannot wait to share this story before live audiences. Our designers have transformed the stage into worlds where magic happens. 

Director:  Alma Davenport 
Cast:  Foster Nix (Eli York), Anthony Floyd (Elbert), Alba Davenport (Samantha York), Jeremy Moller (Jack Armstrong) 
Design and Production:  Jeremy Hollis, Scenic; Sam Reid-McKee, Lighting; Johanna Melamed, Sound; Fawn Bartlett, Costumes; Brandon Eller, Stage Manager 

When: 
May 5, 7:30        May 12, 7:30 
May 6, 7:30        May 13, 7:30 
May 7, 7:30        May 14, 2:00 
May 8, 2:00        May 14, 7:30 

Where:  18th & Union Arts Space, 1406 18th Ave., Seattle 98122 

Tickets:  Available online at Brown Paper Tickets and at the door (depending on availability).
Producer:  Red Rover Theatre Company