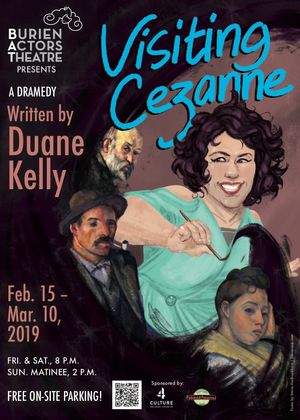 My play Visiting Cezanne opens February 15 for a one-month run at Burien Actors Theatre in south Seattle. If you're in the area I hope you can attend. The play had its premiere one year ago in Seattle.
Visiting Cezanne tells the story of unknown painter Nora Baker who, by the magic in a paintbrush, is whisked from 2016 New York to 1900 France and the studio of Paul Cezanne, another obscure painter with his own problems. Nora desperately wants to get back to 2016 but Monsieur Cezanne is not being helpful. Cezanne and Nora explore what keeps an artist going when the world's indifference makes all seem hopeless. At the premiere production audiences were moved and inspired by the characters' struggles (half the performances sold out).
A stellar creative team has been assembled for this new production. Directing is Marc "Mok" Moser. The cast features Michelle Conklin as Nora; Ken Holmes as Cezanne; Phillip Keiman as Germain, Cezanne's gardener; and Erica McAdams-Roth as young art historian Bessie Shaw. The design team is Albie Clementi (Set), Cyndi Baumgardner (Properties), Zanna King (Lighting), Eric Dickman (Sound), and Rose Hope (Costumes).
Burien Actors Theatre is located at 14501 4th Ave. S, Burien, WA 98166 and offers free onsite parking. Tickets are available online and, depending on availability, at the door.
Background
This play was inspired by a visit to a Cezanne exhibition at the Metropolitan Museum of Art in 2011 and a subsequent trip to Aix in Provence, where Cezanne lived and worked. At the Met I found my imagination wandering. What if Cezanne, so plagued by self-doubt, could step out from his self-portrait and observe the fame his work achieved after he died? A fame not just popular and financial; artists universally revere him. Both Matisse and Picasso would call him "the father of us all." The consensus view among art historians is that Cezanne was pivotal, setting the table for the 20th century.
Being an artist is a compound of doubt, confidence, persistence, obsession and talent, plus – often underestimated – luck. While doubt torments most every artist, it does not destine them to failure. In a perverse way, it may even spur on work.
Consider just three 19th-century artists: Van Gogh, Monet and Cezanne. Today we look at their work and, with the illusion of fate that accompanies hindsight, find it hard to imagine any destination for them other than greatness. Yet success was elusive and each was tormented by doubt. Van Gogh's agonies became the stuff of legend. Monet, at a stage when his career had far eclipsed Cezanne's, in moments of self-doubt could hardly bear to look at Cezanne's paintings because he found them so much better than his.
And Cezanne once wrote to a friend, "You have confidence. That's my greatest hope, to have confidence. Each time I attack a canvas, I remember that I have always failed before. Then I worry myself sick. I never know where I'm going, where I would like to go with this damned art." Though Cezanne said he struggled with every painting and was never satisfied, that didn't impair his industry. The artist from Provence created more than 700 paintings.
We are all flawed creatures. Perfection is not our due. Faith is required. Visiting Cezanne attempts to celebrate those conditions.
Don't miss a thing. Receive Duane's infrequent blog posts by signing up on the Home or Contact pages of this website.